The year is starting fantastic with the January 2020 release! It`s all about the brandnew Web Client which will be the main interface for Collector Users to deliver their monthly/weekly/daily data and which is a light-weighted alternative to our existing Excel Client. We saw that it is crucial to provide an easy-to-deploy client to all those companies which not have rolled out Office 365 into every corner of their company.
(1) The spreadsheet in the new Web Client
We use an Angular based webpart as spreadsheet for our new Web Client. Like every spreadsheet it consists of one or more sheets which have rows, columns and cells. Into cells you can type text, figures or formulas:
(2) The Dimension Tree in the new Web Client
As you maybe know from our Excel Client, in data1.io there must be a dimension tree in order to "switch" the spreadsheet through the organizational structure a user is assigned to. Just double click an element to show the (aggregated) data of this element.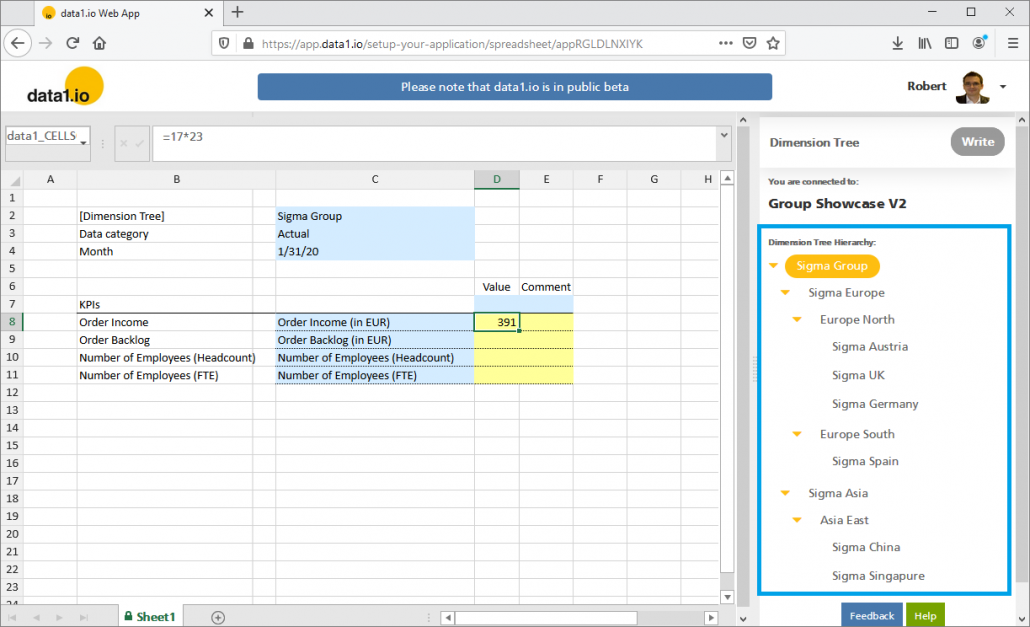 (3) The WRITE Process – save your data
Select an element from the dimension tree (by double clicking the element), enter your figures and comments in the unprotected cells of the sheet. Press the WRITE Button and the entries from the spreadsheet are transformed into records …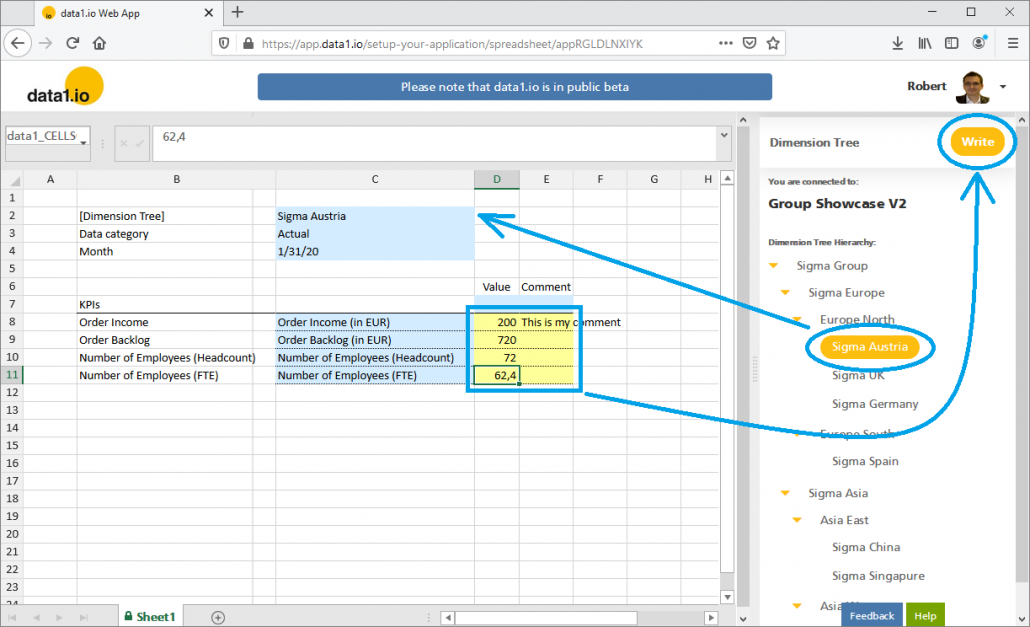 … and are saved – of course – to the database of your application:
You can connect this "Fact Table" as a datasource for your Dashboards in Power BI and in Excel (via the ODATA datafeed) and you can automatically fuel your SAP (R) or Salesforce (R) with that information in order to trigger value creating processes in your business.
(4) The READ Process – show your data
Double clicking on an element triggers the READ Process and shows the existing data of this element, in the case of a sum level element you will see the sum of the values (and no comments, since they are not aggregateable):
(5) Compatibility with the existing Excel Client
We are proud that the two clients – Excel and Web – are fully compatible, so mixed scenarios also can be realized. Your Collector Users ("outside") use the easy-to-deploy Web Client and your Managers ("inside") use the native Excel Client:
Later on we will show, how this new Client will help to realize mixed scenarios also with Power Apps as a further client for forms based data collection processes.
---
Of course we know that this new Web Client is an early version and lots of effort has to be invested to make it ten times better. So we are very hungry for your feedback! Please let us know what you think about it and what kind of collection processes you would like to automate with data1.io and the new Web Client.
Hope you will like the new client, the first publicly accessable version is planned already for the end of March!
https://data1.io/wp-content/uploads/2020/01/Release-January-2020-Title.png
200
400
Robert Lochner
https://data1.io/wp-content/uploads/2021/06/data1.io_Logo_Black-Orange-184-x-300-300x184.png
Robert Lochner
2020-01-31 14:28:17
2021-01-07 22:58:06
January 2020 Release