We are happy to deliver the brandnew June 2021 release with the new Multi-Workflow feature and new Trigger Cells. With this release we leave now the public beta stage – data1.io is now generally available! Yeah, let`s celebrate! Try it now!
Remember, the Web Client is the user friendly spreadsheet for your Collector Users to deliver their monthly/weekly/daily data. The Web App is the tool for the Power User to setup and control your organization's collection workflows.
(1) New Multi-Workflow Mode: Collector Users' view
With the April 2021 Release we got the possibility to have more than 1 workbook in an application. From now on it is also possible to run several workflows at the same time within the same application. Every workflow can have its own workbook …
… or several workbooks can share the same workbook(s):
(2) New Multi-Workflow Mode: Power Users' view
The most important new thing for the power user is the new assignment table where you define which workbook is valid for which workflow:
In the Workflows section we added the Add new button where you can define now as many workflows as you need. They can run at the same time or in different time slots:
All existing definition tables for workflows have got now a dropdown selection where you can select the workflow you want to define: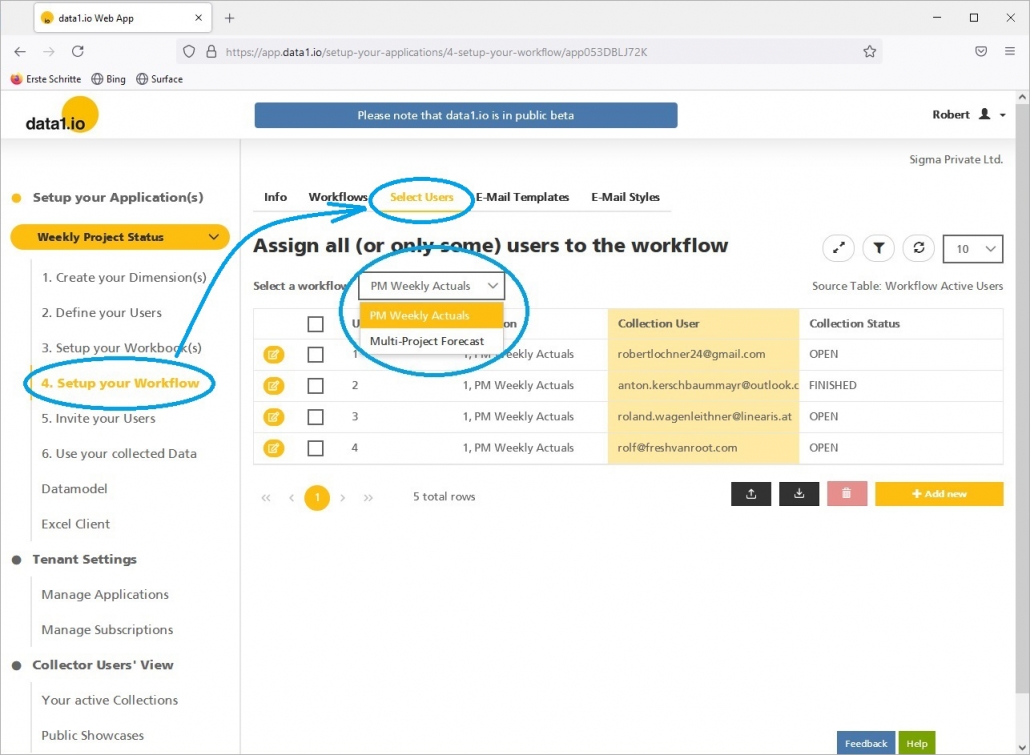 The Invitation section has got a workflow dropdown as well which means that the invitation mails are sent now for every workflow seperately:
Please note that at this stage the Workflow e-Mails cannot be defined seperately (i.e. all workflows use the same e-Mail Templates). Furthermore we want to announce that we will adopt our pricing which is based now on users/applications and we will transform that to users/current workflows.
(3) Web Client: New trigger cells
We are happy that we can deliver now the new trigger cells. As soon as a cell within the named range data1_CELLS01_TriggerReadOnChange is changed, a read process (= refresh will be triggered).
With this new feature you can intensively use dropdowns in your workbooks in order to refresh the queries:
Please note that there is another named range data1_CELLS01_TriggerTreeSelectionAndReadOnChange which makes it possible to select a dimension tree key within a dropdown, pass it to the dimension tree and then trigger the read process (= refresh).
(4) Web Client: Read first bottom element
Another useful definition ist the new "data1_ReadFirstBottomElement = 1" setting …
… since this will force the automatic selection of the first element in the dimension tree when opening the workbook:
Please note that this feature is "Row Level Security sensitive", i.e. the first element the current user has rights for will be selected.
(5) Web App: Upload from Excel Files with Formulas
Until now you got an error when you tried to upload an Excel file into a data1.io table which contained formulas. From now on this issue is solved and you can upload also files with formulas:
(6) Web App: New column USER_Key in the Fact Table
A little but important extension is the new User Key column in the fact table. This makes analysis of the collected data much easier than before:
(7) Web App: License information for Enterprise Plan
As an Enterprise Plan user you can see now your personal license informaton in your Tenant Settings:
Please note that at this stage it is not possible to change license settings by your own.
(8) Further Improvements
We have improved the default sort order of the tables and have set the default time to "00:00 AM" when entering a date without time. Futhermore we have solved some minor buts with the workflow e-mails.
(9) Removal of the "Public Beta" bar
Since data1.io is "Generally Available" now we removed the "Public Beta" at the top of the Web App and the Web Client:
---
Hope you like the new features – we are very curious about your feedback! Please let us know what you think and what kind of collection processes you would prefer to automate with data1.io.
And: stay healthy!
https://data1.io/wp-content/uploads/2021/06/June-2021-Release-Title.jpg
200
400
Robert Lochner
https://data1.io/wp-content/uploads/2021/06/data1.io_Logo_Black-Orange-184-x-300-300x184.png
Robert Lochner
2021-06-28 16:42:47
2021-06-29 21:31:28
Release June 2021