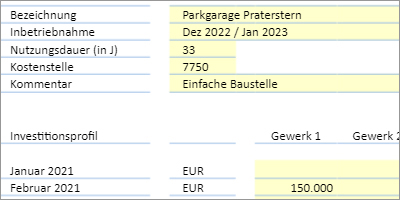 We are proud to deliver the brandnew February 2021 release with the new showcase "Cost & Invest Budgeting" and the new parallel dimension tree. Try it now!
Remember, the Web Client is the user friendly spreadsheet for your Collector Users to deliver their monthly/weekly/daily data. The Web App is the tool for the Power User to setup and control your organization's collection workflows.
(1) New Showcase "Cost & Invest Budgeting" (in German)
We have added a new "Invest Planning" module to our last month released showcase "Cost Budgeting". This new showcase has got now two more very interesting features:
The dimension tree has two parallel branches, one for the cost planning and another one for the invest planning
Depending on the element selected (from the dimension tree) the data entry sheet changes dynamically
You`ll find in the next two items more about these special new features. Again, we want to thank one of our highly motivated early adopter users who had again really good ideas for this usecase and showed us that it was quite easy to realize this. 🙂
(2) New Parallel Dimension Tree
It is now possible to define parallel branches within the dimension tree in order to realize scenarios like the "Cost & Invest Planning" showcase:
It`s quite easy to define – simply use different element names in the top level field of the dimension tree definition table:
(3) Web Client: New "data1_CurrentSheetVisible" Parameter
How is the "automatic sheet change" realized?
Basically it`s very simple: just define a cell with the named range name "data1_CurrentSheetVisible" and write either 0 or 1 in this cell:
Then replace the value by a formula to control the visibility of the right sheet(s). From our point of view there are at least two major fields of applications for this parameter:
Element (type) based visibility = depending on the selected element (type) more or less sheets are visible
User based visibility = depending on the logged in user more or less sheets are visible
Please be aware that in many cases it will be necessary to refresh all sheets at once with the Sync Sheets READ parameter in order to deliver a smooth change between the sheets.
(4) Web Client: New "data1_CurrentUserKey" Parameter
Another new (optional) parameter is the Current User parameter. Define a named range called "data1_CurrentUserKey" and you will get delivered the name of the current user into your workbook. Use it just to display it in your workbook …
… or use it to implement user-specific calculations, sheet visibility rules ("Object level security") and many more.
(5) Web Client: New Warning on Sum Level
Since it is not possible to writeback data on a sum level you will get a warning if you type in data into your workbook when a sum level node is selected in the dimension tree:
(6) Web App: New Table Filter
We have replaced our old table filter in the Web App which was a little confusing and not very powerful. You`ll find the new table filter when you activate the filter in any table in the Web App:
(7) New Capacity Pricing Tiers
We are happy that we can offer now capacity based pricing tiers and therefore deliver a "performance boost" for applications which need computing power. Furthermore we make transparent that our default databases – both shared or dedicated – run with a 5 DTU SQL Azure Database.
It is very important to emphasize that with every change in our pricing tiers all our existing users – both free and enterprise – keep their conditions for lifetime. So your conditions only can get better and never get worse.
---
Hope you like the new features – we are very curious about your feedback! Please let us know what you think and what kind of collection processes you would prefer to automate with data1.io.
And: stay healthy!
https://data1.io/wp-content/uploads/2021/02/Release-February-2021-Title.jpg
200
400
Robert Lochner
https://data1.io/wp-content/uploads/2021/06/data1.io_Logo_Black-Orange-184-x-300-300x184.png
Robert Lochner
2021-02-23 17:01:15
2021-05-31 08:25:16
Release February 2021