We are happy to deliver the brandnew March 2021 release with the new hybrid Power Apps showcase and with many other new features. Try it now!
Remember, the Web Client is the user friendly spreadsheet for your Collector Users to deliver their monthly/weekly/daily data. The Web App is the tool for the Power User to setup and control your organization's collection workflows.
(1) New Power Apps Demo for hybrid scenarios
In the June 20202 release we introduced the "By Cell" definition mode and told you that this mode can be used for the parallel usage of Power Apps as another data entry client for your data1.io application for data collection. Now we want to show you, how this can be executed. Please be aware that (1) this is not a public showcase and (2) Power Apps is not a component of data1.io.
So we have created this data1.io application – it looks like the public showcase Weekly Project Status but we use a workbook in "By Cell" definition mode (read more about that later on) and enter some data:
Microsoft Power Apps is part of the so-called Microsoft Platform and can be used pretty well in combination with Power BI, Power Automate and Power Virtual Agents:
Power Apps is a low code / no code tool from Microsoft to setup mobile data entry forms, we create a so-called "Canvas app":
Our demo app is really very basic, so it is only a draft for a possible solution. Please be also aware that Power Apps are usually used on tablets and smartphone, for practical reasons we use the Power App here via the browser.
On the first screen you`ll find the so-called Gallery which can be used as a selector for the elements from the data1.io dimension tree:
After selecting an element you can see the existing data from the data1.io client …
… and of course you can change the data here and write it back to the application:
Switching back to the data1.io Web Client we can refresh the data (by double clicking the dimension tree element) and can see – of course – the updated data from the Power Apps client:
Please be aware that the Power Apps application is NOT part of data1.io system. It is only a demo which can help you setting up your own hybrid data entry scenario.
(2) Web Client: Mode "By Cell"
The major backbone of such hybrid data entry scenarios is the recordset granularity in the so-called fact table of the data1.io application. When using the default "By Column" mode in a workbook the data1.io application creates one record for each cell in the workbook. So the data from the above workbook would generate this default recordset structure:
But Power Apps can be used much easier if all the data from the Excel Workbook is stored on one single record like this:
This can be realized by using the so-called "By Cell" mode, we introduced this mode already in the June 2020 release. We recommend to use the Workbook Wizard to understand how it works …
… and then transfer this knowledge to your own Workbook (which is usally set up directly in Excel):
If you need some help in setting up your workbook please feel free to contact us.
(3) Web Client: New Parameter "data1_CELLS01_DIM001_Key"
There is a new parameter "data1_CELLS01_DIM001_Key" which brings the key of the selected element in the dimension tree into your workbook (additionally to the name of the selected element):
We recommend to use this parameter for the formula in the SysDELTA parameter (to avoid complications due to ambiguous dimension tree element names).
(4) Web Client: Warning when entering data on a sum level
As an end user you`ll get now a warning if you start typing in the workbook if the writback is not active – either because you have selected a sum level element or because the data collection workflow is already closed:
(5) Enterprise Plan: extend your datamodel with additional dimensions
In the March 2020 Release and in the November 2020 Release we introduced the datamodel, now we continue to show you all the functions.
After activating the additional dimension tables that are relevant for your data model …
… you can select the dimension in order to define all dimensions of your datamodel: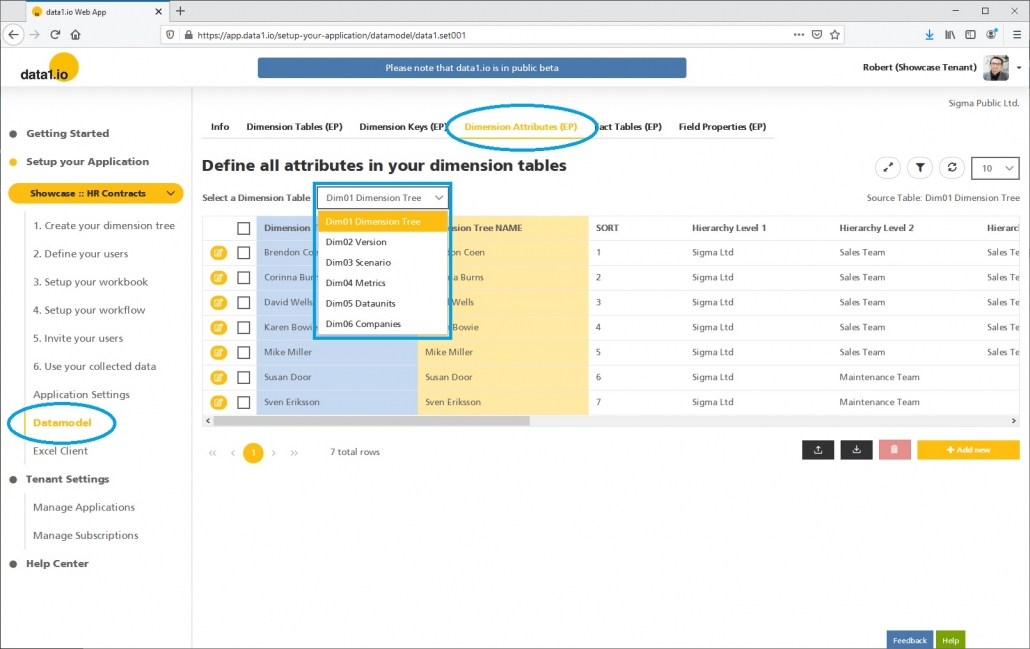 You can define the dimension tables manually or – of course – you can upload readily defined dimension tables from Excel:
Please note that at this stage the additional dimensions are primary relevant for external reporting systems like Power BI. In the data1.io system itself you can use the additional dimension for level-specific aggregations.
(6) Enterprise Plan: create and delete applications
A very important new feature is the possibility to create new applications within your enterprise tenant:
Simply select a valid subscription, define the application owner and set a name for your new application:

It takes about 1 minute until your new application is created and ready to use.
Existing applications now easily can be deleted with the new Delete button. Please be aware that all your data in this application will be deleted – so please download all your collected data from the fact table (and also from the dimension tables) before you delete an application.
(7) Further Improvements: ODATA Feed, User Domains
We have further improved the usage of the ODATA feed – especially the usage of several ODATA feeds from several applications.
Furthermore we have improved the validation of the e-Mail adresses in the user lists: until now domains with more than 3 characters have been rejected. We have improved this with a modern check of valid domains.
(8) Blogpost about the 4th March Live Webinar (in german)
In our first webinar on 4th March 2021 we demonstrated how to collect data with data1.io and how report those data with Power BI by using the ODATA feed. The Webinar was held in german language, so is the blogpost about this webinar:
https://linearis.at/blog/2021/03/15/infos-zum-webinar-daten-im-controlling-mit-data1-io-einsammeln-und-mit-power-bi-auswerten/
---
Hope you like the new features – we are very curious about your feedback! Please let us know what you think and what kind of collection processes you would prefer to automate with data1.io.
And: stay healthy!
https://data1.io/wp-content/uploads/2021/03/Release-March-2021-title.jpg
200
400
Robert Lochner
https://data1.io/wp-content/uploads/2021/06/data1.io_Logo_Black-Orange-184-x-300-300x184.png
Robert Lochner
2021-03-29 07:26:03
2021-04-28 23:06:46
Release March 2021